06.10.21 – GAA's My Mind Matters Challenge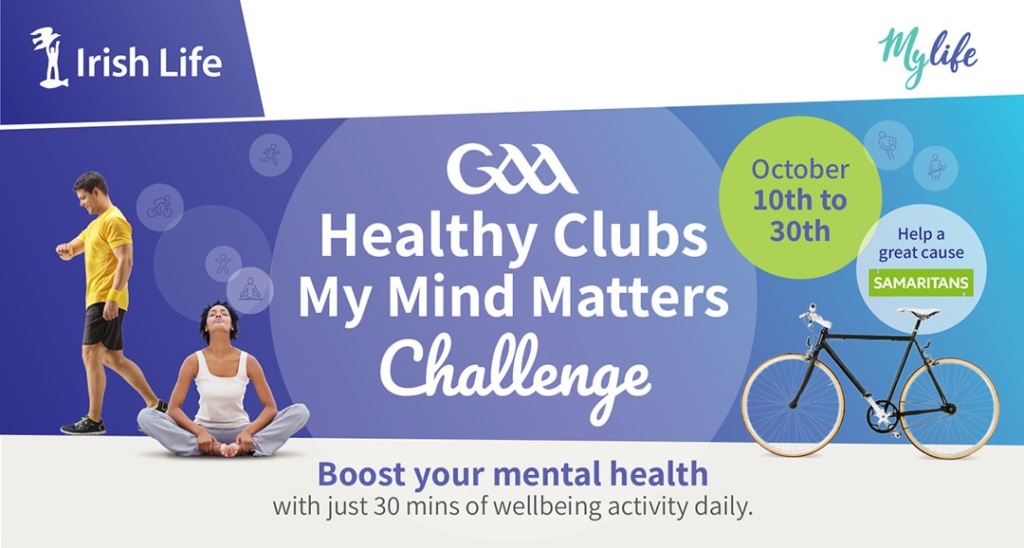 Keeping active is a great way to stay fit and healthy, both physically and mentally. As the evenings get darker (and wetter), many people become less active than during the summer months. Being active every day, evening something as simple as a walk, is proven to have a positive impact on your mood and your sleep patterns.
The GAA Healthy Club Project has partnered with Irish Life to encourage club members this October to participate in a wellbeing challenge via the MyLife App that has the potential to raise €10,000 for Samaritans Ireland. The challenge is simple – set aside 30 minutes five-days-a-week for an activity that boosts your mental health. It can be any activity that boosts your mental wellbeing, such as walking, running, or cycling, yoga, meditation, gardening, or swimming etc.
Every time you complete a 30 minute activity, you must log it on the MyLife App. If participants across the country collectively record 30,000 days of activity (each 30 minutes of activity recorded counts as one day) between October 10th-30th then Irish Life will donate €10,000 to Samaritans Ireland, the GAA's official mental health partners since 2015.
Any participant who achieves the weekly targets will be entered into weekly draws for:
Week 1: 25x £50 Amazon.co.uk Gift Cards
Week 2: 30x Fitbit Charge 4
Week 3: 5x €500 Ireland's Blue Book Voucher
Even if you don't want to log your activities in the App, we are encouraging all of our members and the wider Ballinora community to take up the challenge of doing 30 minutes activity five days a week to help look after your mental health.
For more information check out:
How do club members & community join the challenge?
Download the MyLife app from the App store or Google Play store
Register your details
Tap on the social tab on the MyLife app
Select challenges
Select GAA Healthy Clubs My Mind Matters Challenge
Tap on join