Ballinora GAA, LGFA and Camogie clubs are delighted to formally launch the new club development plans.
We need your help so we can realise our ambitions. Development at Ballinora for the club and community will include
Sand based pitch

Ball stop nets on both sides

Fencing all around

Astro to both goals

New dugouts

Meeting room upgrade

Ballymaw Dressing Room Upgrade
By playing Ballinora GAA club lotto on a weekly basis you will be directly supporting these plans.
Play now at https://smartlotto.ie/ballinora-gaa-club/.
Select "Play Every Draw" and "Auto Topup". Please see our Lotto Quick Guide for more detailed steps.
You can also support by making contributions to the club. Contact Jean O'Brien (086 386 4704).
Watch the below video to hear detailed info on these plans and to hear from our GAA Club Chairman Mick O'Regan. Watch to the end to see who is going to benefit from this 😉 and how you can help!
Mick O'Regan on the importance of our Ballinora Facilities Development
Above is the first in a weekly series of videos where we interview people from club and community about these plans and the importance of it to the benefit of everyone in the parish. Additional videos below.
Francis Twohig on the importance of our Ballinora Facilities Development
Máire Fitgerald, Chair of Ballinora Camogie and LGFA
Mark Hegarty, Juvenile Treasurer & Kieran Conway, Juvenile Coach Coordinator
Lufe Fole, Principal of Scoil Bailenóra
Jo Murphy, Coach and Parent and George Forde, Dual Player
See below details on the club development.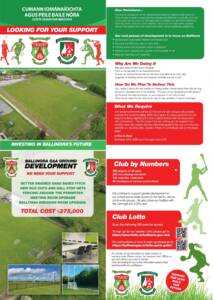 Baile Nóra Abu!
By PRO - Ballinora GAA
Mon 31st Oct